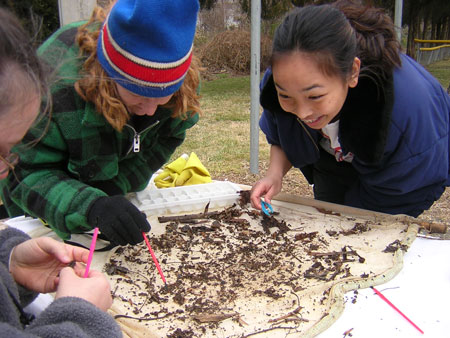 In the fall of 2003, we began monitoring Burke's Spring Branch as part of Fairfax County's volunteer stream monitoring program. To get an ongoing picture of the overall health of the Branch, we will monitor the Kirby to Pimmit Run reach four times a year. Since Pimmit Run itself is monitored just downstream of this area, we will also be able to get a sense of the relative health of the tributary (Burke's Spring Branch) and the main stream (Pimmit Run), and of Burke's Spring Branch's contribution to the health of the Pimmit Run and Potomac watersheds. For the next monitoring date, please see the activities page.
In addition, we have begun monitoring selected spots farther upstream on a less frequent basis, to get an idea of the relative health of different forks and reaches of the branch, and to provide a baseline from which we can judge the effects of planned developments in the watershed and other stresses on the stream, and perhaps, eventually, gauge the effectiveness of restoration efforts. So far, we have monitored sites near the bridge behind Longfellow school, on the reach stretching from Hutchison St. to the McLean Greens stormwater pond, at the far downstream end of the Burke's Spring to Hutchison reach, and just below the McLean Greens stormwater pond. In the spring and summer of 2005, we hope to return to the Longfellow site, and to monitor additional sites along the Branch. If you'd like to suggest a site, feel free to contact us.
To learn more about the monitoring process, and to see our results, please go to the next page .