Burke's Spring, the historic headwaters of Burke's Spring Branch, is located about 200 feet northeast of the foot of Crutchfield St. It has served as a source of water for humans and animals since at least the 18th century, when it was known as Scutt's and then Cockerill's Spring, in reference to the then-current landholders. It appears on many old maps. We know that a springhouse had been built on top of the spring by the time of the Civil War because Mary Ann Burke, owner of the nearby Dye/Burke/Frase house, testified before the postwar Southern Claims Commission that Union soldiers had stolen potatoes from her fields and "washe[d] the potatoes down at the springhouse." Before the advent of refrigeration, the steady flow of cool water through springhouses helped to keep perishables fresh, even in the warmest months; this function must have been especially important to the Burkes, whose farm, according to the Fairfax County agricultural census of 1860, supported 6 milk cows and produced 200 lbs. of butter a year. These activities explain the need for a good-sized springhouse, the remains of which are still visible today. In the picture below, you can see the place where the spring emerges from under the springhouse ruins and sections of the rock-lined channel that directed the flow.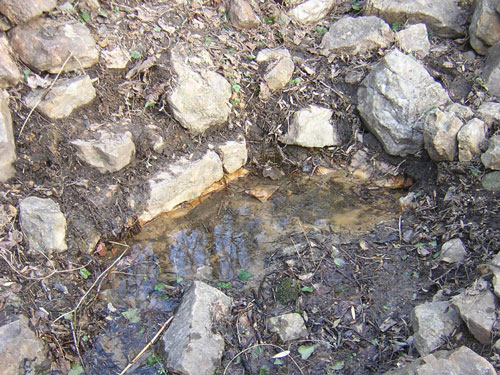 Recent efforts by neighbors and other concerned with environmental and historic preservation in Fairfax County have saved Burke's Spring from planned burial under a road in Camberley Homes' Stockwell Manor development (see plan and petition, which refer to the developer as Winchester Homes; Camberley Homes is a division of Winchester Homes). Construction of Stockwell Manor is under way, but exactly how the site will be incorporated into the common space of the development remains to be seen. We hope the final plan will preserve the spring and its setting in a way that makes this site, which is currently inaccessible to the public, both inviting and accessible as an educational resource for those interested in learning more about our neighborhood history and ecology. (To see how a similar site has been handled in Fairfax County's Ellanor C. Lawrence Park, go to http://fairfaxcounty.gov/parks/ecl/index.htm and click on the "visitor center" link at the top left; the rebuilding of the rockwork around "Indian Spring" in Potomac Overlook Park offers another possible model). To learn more about the spring and springhouse, go to page 2.
For more information about Mary Ann Burke's southern claim and other sources for the information on this page, please see links & sources .