The McConvey house appears to have been constructed primarily at one time, though a screened porch toward the rear (converted into a study in the 1960s) and the present two-story porch were probably added later. Renovations after a fire in the 1940s resulted in some interior changes, including the installation of new trim, doors, and windows, reconfiguration of the upstairs hallway, and, probably, construction of an interior entrance to the cellar (which had previously been reached by a bulkhead covered over by the screened porch addition). Bathrooms were also added or substantially renovated at this date. Very few changes have occurred since the 1940s. The Saunders family, which bought the house in 1963, renovated the kitchen in the 1980s, replacing 1940s metal cabinets with wood, and converted the flat porch roof to a slightly sloping one to improve drainage.
The overall construction of the house is frame, with wood siding. The foundation, like that of the Burke's Spring springhouse , is constructed of local quartz: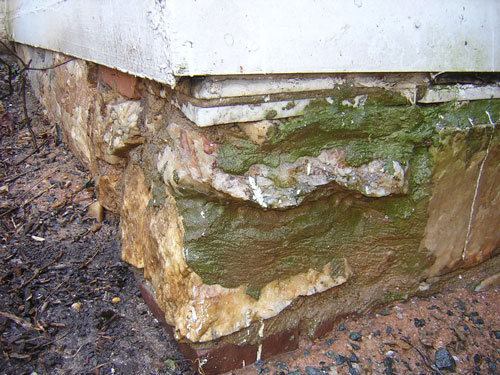 The interior rooms are good-sized, with attractive trim, most of which is not original, though the newel post, visible in the picture below, probably is: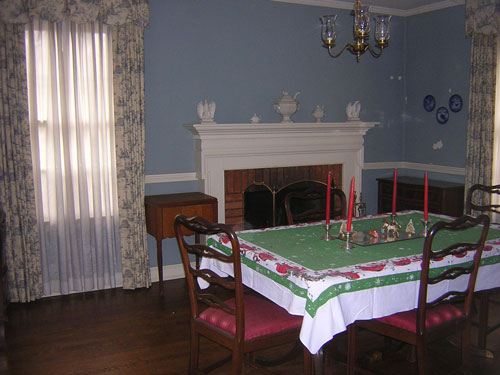 This nearly 100-year-old house, like its much older neighbor the Dye-Burke house , is scheduled to be demolished by Winchester Homes in preparation for construction of the Stockwell Manor development. Since the house is structurally sound and well- laid-out, it seems like a good candidate for renovation and inclusion in the development. Several neighbors have already written letters urging Winchester and our elected and appointed representatives to consider this option, which is encouraged by the Comprehensive Plan (see 9-26 and 2-16 letters).